I Need Thee Lyrics

"I need Thee every hour..."
I Need Thee lyrics can be copied and pasted into Powerpoint or your church worship software like OpenSong.
I have also included the I Need Thee guitar chords below.
Origin of I Need Thee Lyrics And Music
Annie Hawks was just an ordinary wife and mother when she wrote the lyrics to this hymn. At age 37 while doing her household chores, she felt God's presence strongly.
This is what she said:
"One day as a young wife and mo­ther of 37 years of age, I was bu­sy with my reg­u­lar house­hold tasks. Sud­den­ly, I be­came so filled with the sense of near­ness to the Mast­er that, won­der­ing how one could live with­out Him, ei­ther in joy or pain, these words, "I Need Thee Ev­e­ry Hour," were ush­ered in­to my mind, the thought at once tak­ing full pos­sess­ion of me..."
She gave the lyrics to her pastor Robert Lowry and he, a known hymn writer, wrote the music for We Need Thee lyrics.
Later when she was widowed, and at the time of her life when she needs the Lord most, that's when she truly understood the meaning of this hymn and why it had touched and brought comfort to so many others.
She said;
"I did not un­der­stand at first why this hymn had touched the great throbbing heart of hu­man­i­ty. It was not un­til long af­ter, when the sha­dow fell over my way, the sha­dow of a great loss, that I un­der­stood some­thing of the com­fort­ing pow­er in the words which I had been per­mit­ted to give out to others in my hour of sweet se­ren­i­ty and peace."
What a testimony of the all-knowing and all-loving God who knows our every need and always meet those needs in miraculous ways. How much we need Him to still the inner turmoil of our hearts and bring perfect peace by His very presence in us.
How comforting to know that He is always with us.
Jesus said, "...and lo, I am with you alway, even unto the end of the world." Matthew 28:20. And with the Psalmist, we can affirm our position in Him. We live and breathe in Him. Indeed God is our strength and portion forever.
Yet I am always with you;
you hold me by my right hand.
You guide me with your counsel,
and afterward you will take me into glory.
Whom have I in heaven but you?
And earth has nothing I desire besides you.
My flesh and my heart may fail,
but God is the strength of my heart
and my portion forever.
- Psalm 73:23-26
As we sing or just say the I Need Thee lyrics, let us say it with that full assurance in our hearts that God is always with us. He will not leave or forsake us. With His Presence, we receive grace and strength to face any life situation. Praise and bless His Holy Name! Our God is so good!
For me, this I Need Thee lyrics has been words I use often to express to God my need of Him; my inadequacy and His all sufficiency.
---
I Need thee Every Hour
~ Words: Annie S. Hawks, 1835 - 1918
~ Music: Robert Lowry, 1826 - 1899
Stanza 1:
I need thee every hour, most gracious Lord;
No tender voice like thine can peace afford.


Refrain:
I need thee, O I need thee;
Every hour I need thee;
O bless me now, my Savior, I come to thee.


Stanza 2:
I need thee every hour; stay thou nearby;
Temptations lose their power when thou art nigh.


Refrain


Stanza 3:
I need thee every hour, in joy or pain;
Come quickly and abide, or life is vain.


Refrain:


Stanza 4:
I need thee every hour; teach me thy will;
And thy rich promises in me fulfill.


Refrain:


Stanza 5:
I need thee every hour, most Holy One;
O make me thine indeed, thou blessed Son.


Refrain: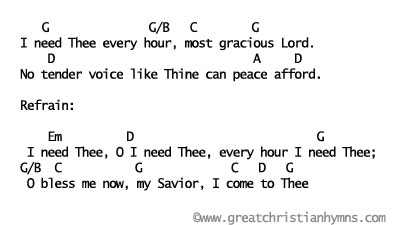 ---
Praise the LORD.
How good it is to sing praises to our God,
how pleasant and fitting to praise Him!
~ Psalm 147:1
Back to top of I Need Thee Lyrics
back to Great Christian Hymns Homepage