Enjoy Great Christian Hymns!
Search Here For Traditional Church Hymn Lyrics.
Welcome to Great Christian Hymns! Are you looking for hymn lyrics, would like to know the history of a hymn, or just searching for Christian music to use for a church event? Then you have come to the right place.
Here you will be able to find Christian song lyrics to your favorite hymns, download piano and guitar chords for Christian hymns, choose hymns to use for a wedding ceremony, hymns for adoption ceremony, baby baptism, funeral or memorial hymns, Easter hymns, and more.
Ephesians 5:19
Speaking to yourselves in psalms and hymns and spiritual songs, singing and making melody in your heart to the Lord; (King James Version)
Then you will recite to one another psalms, hymns, and spiritual songs; you will sing and make music to the Lord with your hearts; (International Standard Version)

Great Christian Hymns
This is a hymn resource site that will be extremely useful for Pastors, Church Workers, Sunday School Teachers and anyone serving in any ministry in the church.
It's also a site that will benefit any Christian who loves traditional hymns or likes to know more about the hymns and the hymn writers.

Over all, it's a site for anyone who sincerely likes to know who God is and how you can know Him and connect with Him.
My sincere prayer is that anyone who comes in here will not leave without a touch from the Almighty God. That you will know the God of Martin Luther, Charles Wesley, Fanny J. Crosby and Isaac Watts just to name a few of these hymn writers, the way they knew Him intimately.
I started this Christian lyric website because I love singing Christian hymns and found that most churches today exclude hymn singing in their worship. More emphasis are on the contemporary worship songs from Hillsongs. I have nothing against Hillsongs music; in fact I love quite a few of their songs and will sing them with gusto in the church worship service. But I do miss the good old hymns. I still remember the hymn, 'Just As I Am' - the hymn that beckoned me to come to Christ and receive Him as my Lord and Savior. So to remember these great christian hymns, I decided to build this Christian website and filled it with all the famous traditional Christian hymns I love.
Do visit again and again as I will continually be adding more contents as the days go by.
Yours sincerely,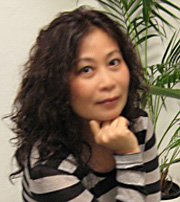 Flora Tan
~ who loves God and loves to worship Him with these great christian hymns.
Let's Keep In Contact!
Sign up to Great Christian Hymn eNewsletter to receive emails from us for the latest news and updates.
Like GreatChristianHymns.com?
If this Christian hymn has inspired or edified you in some way, please help spread the Word by sharing it with someone today.