I Work At Home!
My Internet Income Story
How God provided for all my need
through an internet business
I work at home and earn an internet income with my websites. This is my testimony of how the Lord answered my prayers and enabled me to work from home, set my own work time and freed me to serve Him whenever the needs arise.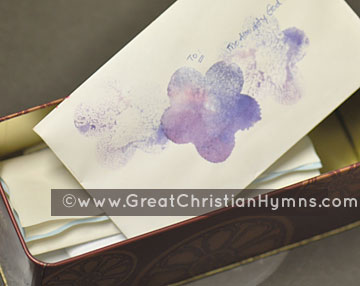 How It all Started

Two Letters to God

It started with two letters I wrote to the Lord in 2004. I had and still have this God's Box. I sometime write letters to God and put them in this box which I call 'God's Box'. Usually, these are important prayer requests concerning my life, my work and family. I will write my prayer and fold it up like a letter, sometime inside an envelope addressed "To: The Almighty God" and put it in this God's mail box . After that I just kind of forget it as I have handed over the matter into God's hand. Well, it's in His box, right? And the Bible did said that I should cast all my cares on Him.
(For anything concerning prayer and if you need me to pray for you, go to ...)
1st Letter - 6th April 2004

In the first letter dated 6th April, 2004, I wrote to God concerning my financial situation; primarily asking that I'll be able to pay off all my debts within that year. And the other prayer request was to be able to generate income from my creative work - something I'm good at and enjoy doing as well as working flexible hours from home.
2nd Letter - 17th June 2004

The second letter was dated 17th June, 2004 asking God to help me start an Internet business.
This is what I wrote:
"Dear Lord, Help me start an Internet business. I heard many people making money online and I want to join the club. I don't really know what kind of business to start or the best way to get it up and running. Please help me to start one that I enjoy running, can start part time and build from there to a full time income."
God Heard My Prayers

11th May 2004

I purchased a SBI (Site Build It) Subscription - Notice that it's a month before I wrote that 2nd letter to God.
11th September 2004

Registered My First Website.
After doing some brainstorming with the tools provided by SBI, I decided to build a website about card making. I love making greeting cards. I started creating my own greeting cards and postcards when I was away in the missions field.
While in the mission field, purchasing store-bought cards were out of my budget range, so I made my own greeting cards with photos from travel brochures and other pictures that looked pleasing to me.
Sometime, I drew pictures of places I had been to or attached dried flowers (autumn was the best time - beautiful orange hue maple leaves were in abundance) on the front of a folded card and sent that home to my grandmother and prayer partners.
When I came home, I continued making my own cards and turned it into a hobby and a card ministry.
So when I was asked to choose three things I love doing by the provided Action Guide, the top one was card making.
After 4 months of intensive research with the SBI Software, I registered my 1st website and received my first internet income at the end of November of the same year. It was a small amount - $100. But gradually, my work at home online income increased and became more regular and thus allowed me to work at home full time.
It wasn't all plain sailing building a website. There were moments I wanted to give up.
I believe it was the guiding hand of God - His wisdom, His creativity and His sustaining power working in me - enabling me to create a site that has visitors from all over the world.
I also believe that, in His wisdom, God had prepared me for a global ministry that I would not have been able to do as a missionary going out to a far off country. Now, I'm able to reach more people in more nations 24 hours 7 days a week. Praise His Awesome Name!
Within a year or so, I was able to work at home comfortably. No traveling, no boss to answer to, my own flexible working schedule, work in my pajamas, work anywhere there's an internet connection.
And all started from that two letters to God. I am able to tick off each of those requests I made in my prayers to the Lord God Almighty. He provided me everything I asked for and more to work at home. Praise His Holy Name! He is my God - my Provider!

1. Pay off my debts. (not within that year but the next year and now I'm debt free)
2. Generate income from my creative work.
3. Work flexible hours.
4. Work at home.
5. Start the right Internet business.
6. Earn a full time income.
7. Enjoy my work.

The Launch of GreatChristianHymns.com

On the 10th of December, 2005, I started GreatChristianHymns.com because I love hymns.
I was brought up in a Buddhist home. Then in my teen, I came to know about the Christian God; how much He love me and that He sent His only Son, Jesus Christ, to die in my place.
In 1975, I accepted the Lord Jesus Christ as my personal Savior. That's a long long time ago :-)
The church I attended sang a lot of hymns; He Lives, Trust and Obey, Amazing Grace, etc.
Later, the Bible seminary where I studied introduced me to more hymn singing.
Now, most churches only sing the contemporary worship songs. Hence, I really missed the traditional hymns.
As a result, I started this website not to make money online but primarily as a ministry unto the Lord. I want to compile a collection of my favorite hymn lyrics online and encourage other Christians all over the world to come back to worshiping God with the rich Christian hymns.
Every day, I wake up thanking God for answering my heart cry and giving me the freedom of a work at home lifestyle.
God never fails! He is ever with us.
Day by day, I continue to cast my cares on Him. I'm building more websites with Site Build It and will continue to build more niche websites, God's willing.
It's really amazing how a non-tech gal like me could build websites and earn a full time income from working on the internet. Which is why I thank God for SBI - a software for non-techies like me to build a site on anything I love.
Thank you, Lord Jesus!
If you have any question about how to work at home online, or have a question about SBI, please send it to me via the form below.
You can also check out my Craft Business website whereby I guide my fellow crafting friends how to start a home based business online.
It's okay even if you are not a crafter. You will still be able to learn how to start a blog or website and earn an income online writing about your favorite interest.
And if you don't write about anything, please do write about your walk with the Lord Jesus... Let's spread the Word far and wide - tell others about the wonderful works God is doing in your life. Magnify His Holy Name! God never fails to reward us. He will provide for us as we obey His will and do His work in His power.
EARNINGS DISCLAIMERS:
Please do not construe any statement in this website as a claim or representation of average earnings. There are NO average earnings. My testimonial and statement about my work at home business is not to be construed as claims or representations of average earnings. I cannot, do not, and will not make any claims as to earnings, average, or otherwise.
Success in any work at home endeavor is based on many factors individual to you. I do not know your educational background, your skills, your prior experience, or the time you can and will devote to the endeavor.
Please perform your own due diligence before embarking on any course of action.
Let's Keep In Contact!
Sign up to Great Christian Hymn eNewsletter to receive emails from us for the latest news and updates.
Like GreatChristianHymns.com?
If this Christian hymn has inspired or edified you in some way, please help spread the Word by sharing it with someone today.
Praise the LORD.
How good it is to sing praises to our God,
how pleasant and fitting to praise Him!
~ Psalm 147:1
Return to Great Christian Hymns Homepage