A Mighty Fortress Is My God
The Battle Hymn of The Reformation by Martin Luther
A Mighty Fortress Is My God is indeed a remarkable Christian hymn. It was written by Martin Luther and is also called The Battle Hymn of The Reformation. It has been a favourite hymn in the Christian churches worldwide throughout the ages and has been sung in time of nationwide trials and suffering.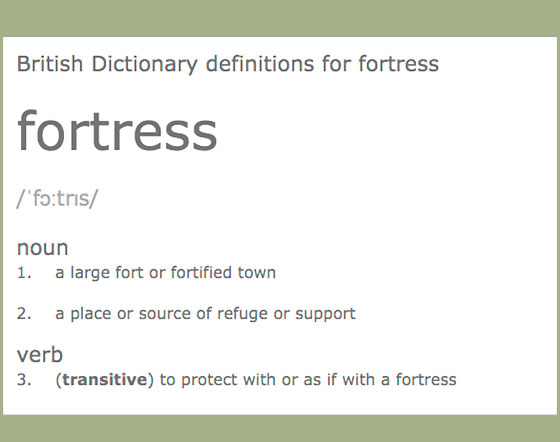 Definition of Fortress
The above definition was taken from Dictionary.com
To print this great Christian hymn, just highlight the words of the hymn, then copy it and paste into your word editor.
---
A Mighty Fortress Is My God
~ Martin Luther, 1483-1546
~ Translated by Frederick H. Hedge, 1805-1890
Stanza 1:
A mighty fortress is our God,
A bulwark never failing;
Our helper He amid the flood
Of mortal ills prevailing.
For still our ancient foe
Doth seek to work us woe -
His craft and pow'r are great,
And armed with cruel hate,
On earth is not his equal.
Stanza 2:
Did we in our own strength confide,
Our striving would be losing,
Were not the right Man on our side,
The Man of God's own choosing.
Dost ask who that may be?
Christ Jesus, it is he -
Lord Sabbaoth His name,
From age to age the same -
And He must win the battle.
Stanza 3:
And tho this world, with devils filled,
Should threaten to undo us,
We will not fear, for God hath willed
His truth to triumph thru us.
The prince of darkness grim -
We tremble not for him;
His rage we can endure,
For lo! his doom is sure -
One little word shall fell him.
Stanza 4:
That word above all earthly pow'rs -
No thanks to them - abideth;
The Spirit and the gifts are ours
Thru Him who with us sideth.
Let goods and kindred go,
This mortal life also;
The body they may kill;
God's truth abideth still;
His kingdom is forever.
A Mighty Fortress Is My God

- A Great Christian Hymn Indeed!
A Mighty Fortress is My God is also called the Battle Hymn of the Reformation not just because Martin Luther, the Father of the Protestant Reformation penned this great hymn but also because it had increased support for the Reformers' cause.
In March 1969, it was sung at the National Cathedral in Washington, DC for the funeral of American president Dwight Eisenhower.
On September 14, 2001, it was again sung at the National Cathedral during the Prayer Service which was led by Rev. Billy Graham three days after the 911 attacks.
I have taken the liberty of placing this hymn in the Praise & Worship section because though a battle hymn, it's a hymn that exalt our God and His mighty power over the earth  and our response is to be still, relax, rest in Him and see Him at work on our behalf. 
Why do we have this confidence that God will work for our good? Because of the finished work of our Lord and Saviour Jesus Christ on the cross, we now stand righteous in Christ and the Almighty God who is now our Abba Father is watching out to perform His promises over us.  Jeremiah 1:12 (see below quoted scripture).
Hallelujah! Praise the Lord!
"Then said the Lord to me, You have seen well, for I am alert and active, watching over My word to perform it." 
 - Jeremiah 1:12 (AMP)

Psalm 46 (KJV)
This Christian hymn, A Mighty Fortress Is My God, is based upon Psalm 46. Read and meditate upon it below.
God is our refuge and strength, a very present help in trouble.
Therefore will not we fear, though the earth be removed, and though the mountains be carried into the midst of the sea;
Though the waters thereof roar and be troubled, though the mountains shake with the swelling thereof. Selah.
There is a river, the streams whereof shall make glad the city of God, the holy place of the tabernacles of the most High.
God is in the midst of her; she shall not be moved: God shall help her, and that right early.
The heathen raged, the kingdoms were moved: he uttered his voice, the earth melted.
The LORD of hosts is with us; the God of Jacob is our refuge. Selah.
Come, behold the works of the LORD, what desolations he hath made in the earth.
He maketh wars to cease unto the end of the earth; he breaketh the bow, and cutteth the spear in sunder; he burneth the chariot in the fire.
Be still, and know that I am God: I will be exalted among the heathen, I will be exalted in the earth.
The LORD of hosts is with us; the God of Jacob is our refuge. Selah.
We Love to Hear from You!
What do you think about this particular hymn? Or do you have a nugget or a testimony to share with us regarding God as a Mighty Fortress where we can take refuge in? Do add your comments below.
---
Ezine and Your Comments
Stay tuned! More hymns will be added.
Meanwhile, you might like to subscribe to my ezine or add your comment to this page. Just scroll down to sign up, add your comment or view what others are saying about this hymn.
Let's Keep In Contact!
Be the first to receive updates, Christian living tips and current news!
Like GreatChristianHymns.com?
If this Christian hymn has inspired or edified you in some way, please help spread the Word by sharing it with someone today.
Go to top of A Mighty Fortress Is My God