Let's Praise and Worship God With These Popular Hymns
Let's praise and worship God in spirit and in truth, for God, our Father, is seeking such a people to worship Him.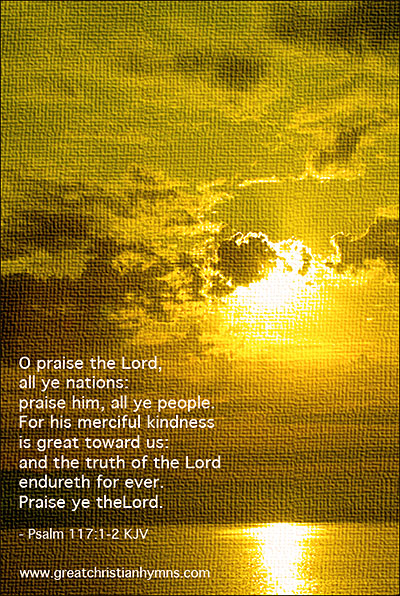 But the hour cometh, and now is, when the true worshippers shall worship the Father in spirit and in truth: for the Father seeketh such to worship him. - John 4:23 (KJV)
Are we the people He's seeking? 
Surely, He's seeking for a people who will worship Him with a pure heart; drawing close to Him to adore and glorify Him.
Let us draw near with a true heart in full assurance of faith, having our hearts sprinkled from an evil conscience, and our bodies washed with pure water.  - Hebrews 10:22 (KJV)
More Scripture Verses
O praise the Lord, all ye nations: praise him, all ye people. For his merciful kindness is great toward us: and the truth of the Lord endureth for ever. Praise ye theLord.  - Psalm 117:1-2

(

KJV)

God is a Spirit: and they that worship him must worship him in spirit and in truth. - John 4:24 (KJV)
Give unto the Lord the glory due unto his name: bring an offering, and come before him: worship the Lord in the beauty of holiness.  - 1 Chronicle 16:29 (KJV)
Praise and Worship Hymns
For me personally, although I might come to God in worship with a song of praise and this can be a contemporary Christian song by Chris Tomlin, Amy Grant, Matt Redman, Paul Baloche and many other Christian singers and worship leaders.
But most time, I worshipfully approach the awesome Presence of God  with an old tradition hymn like 'How Great Thou Art' or 'To God Be The Glory'.
I have nothing against contemporary Christian music or songs, it's just that I'm so much comfortable with the hymns.  There are so much substance and theologies in them; written by hymn writers in adoration of God's Person and Worth and testimonies to His goodness and greatness. They wrote out of a pure heart, not for gain, but solely to worship the one true God.
Hymns to Worship Our God
Although all the Christian hymns can be used for and will aid us in the worship of our God, there are some that speaks of His greatness, and glorify Him for who He is. 
The above are some praise and worship hymns which I believe could be used in time of worship but these are not all. There are so many more and I hope to be able to expand this collection gradually.
Maybe you can help too:-)
Help me by sharing which Christian hymn you usually use in your worship service, family or personal devotional worship time. That will certainly be of a great help to me and a service to our God. We can encourage and inspire more Christians to return to these great traditional Christian hymns and and for the younger generations of worship leaders to develop a love for them and use them in the service of God.
Suggest a Worship Hymn
Do you have a hymn you like to suggest to assist us when we come to the throne of God? If you have a favourite praise and worship hymn, please share by commenting below.
Thank you!
---
Great Christian Hymns

›
Praise & Worship Hymns
Ezine and Your Comments
Stay tuned! More hymns will be added.
Meanwhile, you might like to subscribe to my ezine or add your comment to this page. Just scroll down to sign up, add your comment or view what others are saying about this hymn.
Let's Keep In Contact!
Be the first to receive updates, Christian living tips and current news!
Like GreatChristianHymns.com?
If this Christian hymn has inspired or edified you in some way, please help spread the Word by sharing it with someone today.