Hymn Lyrics : How Great Thou Art
A Most Powerful Worship Hymn
How Great Thou Art is one of those Christian hymns that I learned to sing when I first came to know the one true God in a very personal way.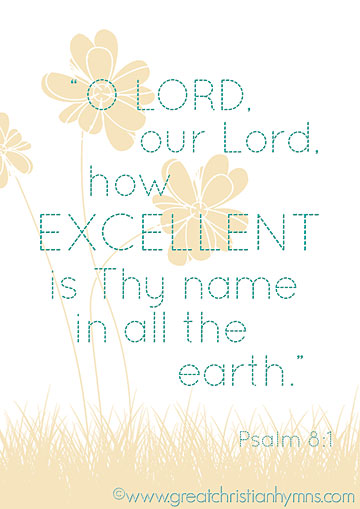 | | |
| --- | --- |
| | Note: To all who has added your comments below and helped to correct any error in this great Christian hymn, I want to say, 'Thank you very much!'. Your contributions and comments helped to make this hymn site as accurate as possible and helpful for others. |
Having been brought up in a non-Christian environment and not knowing anything about Jesus Christ, I have always wonder about creations; the sun, the moon, the stars and yes, even the rolling thunders. I wonder how they came into being and the force behind each of these in the universe.
But now I know the God who created these and more. I know Him personally. He is no longer just the force out there. He is my Lord and my God; the One who created the heaven and the earth, the One who provided a way back to Him by sending His Son, Jesus Christ to died in my place. What a God! What a Savior! I will always sing this hymn with gusto and heartfelt thanks to the Lord my God.
To print the lyrics of this hymn, just highlight the words and copy and paste into your word editor.
How Great Thou Art
~ 
Lyrics ~ Carl Boberg, 1859 - 1940
~ 
English Translation ~ Stuart K. Hine, 1899 - 1989
Stanza 1:
O Lord my God,
When I in awesome wonder
Consider all
The world Thy Hand hath made,
I see the stars,
I hear the rolling thunder,
Thy pow'r throughout
The universe displayed; 
Refrain:
Then sings my soul,
My Saviour God, to Thee,
How great Thou art!
How great Thou art!
Then sings my soul,
My Saviour God, to Thee,
How great Thou art!
How great Thou art!
Stanza 2:
When through the woods
And forest glades I wander
I hear the birds
Sing sweetly in the trees;
When I look down
From lofty mountain grandeur
And hear the brook
And feel the gentle breeze;
Refrain


Stanza 3:
And when I think,
That God, His Son not sparing;
Sent Him to die,
I scarce can take it in;
That on the Cross,
My burden gladly bearing,
He bled and died
To take away my sin.
Refrain


Stanza 3:
When Christ shall come,
With shouts of acclamation,
And take me home,
What joy shall fill my heart!
Then I shall bow
In humble adoration
And there proclaim,
"My God, how great Thou art!"
I understand that the original words are works in 'The world Thy Hand hath made' in stanza 1, mighty in 'rolling thunder' also in stanza 1 and shall I bow in 'Then I shall bow' in the last stanza. 
Also that these word changes are only approved for use in North America.
Copyright Information for this Hymn
Copyright © 1953 The Stuart Hine Trust/All rights worldwide adm. by Kingsway Communications Ltd. tym@kingsway.co.uk (except USA admin. byEMI CMG Publishing and print rights adm. by Hope Publishing Company. All other rights in North, Central & S.America adm by Manna Music Inc)
To view the original Swedish lyrics entitled 'O Store Gud' by Carl Boberg, just click here.
Bible Verses for Meditation
Who is like unto thee, O LORD, among the gods? 
who is like thee, glorious in holiness, 
fearful in praises, doing wonders?
- Exodus 15:11
O LORD, our Lord, 
how excellent is thy name in all the earth! 
who hast set thy glory above the heavens.
- Psalm 8:1
Among the gods there is none like unto thee, O Lord;
neither are there any works like unto thy works.
- Psalm 86:8
Herein is love, not that we loved God, 
but that he loved us, and sent his Son 
to be the propitiation for our sins."
- 1 John 4:10
All scriptures are taken from the King James Bible.
We Love To Hear From You!
What do you think about this particular hymn? Or do you have a nugget or a testimony to share with us concerning the greatness of God and His wonderful grace? Do add your comments below.
For those who had commented, thank you so much. I really love to hear from you and know that there are many who still love the hymns and enjoy singing them in worship of our God.
Ezine and Your Comments
Stay tuned! More hymns will be added.
Meanwhile, you might like to subscribe to my ezine or add your comment to this page. Just scroll down to sign up, add your comment or view what others are saying about this hymn.
Let's Keep In Contact!
Be the first to receive updates, Christian living tips and current news!
Like GreatChristianHymns.com?
If this Christian hymn has inspired or edified you in some way, please help spread the Word by sharing it with someone today.
to top of How Great Thou Art